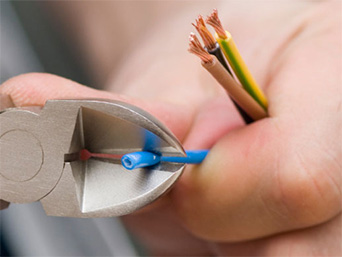 A question many house owners, and more often potential house buyers ask themselves is
"does this place need a rewire?"

Often the answer is not straight forward, as some parts of the installation may be satisfactory, others not so. Some older properties may have had modifications carried out while different (ie older) versions of the Wiring Regulations were in force and are now in need of improvement.

The only way to be sure, is to get an approved electrician to have a look and carry out an EICR Electrical inspection. If you are buying a property, paying for an inspection may be money well spent if you discover the property needs to be re-wired. We offer this service for a fixed fee and conduct home buyers and home sellers electrical surveys for estate agents weekly.
Completed Fuse Box Replacements
The answer is simple, as with most things in life you pay for what you get. If you receive a quotation from a one man band sole trader and it sounds too good to be true it most likely will be.

Alot of trades these days advertise rewires at £2000.00 pounds to get you to accept the price and get a foot in the door, once you accept and they commence the rewire you are committed as you have no electricity and there is no turning back as your house is in bits. the price itself offers next to no sockets in the house like what we offer to modern day living standards and then half way through the house rewire installation you end up paying up to £2000.00 on extras such as shower points, cooker points, smoke detectors, outside lights because you have no choice and just want the job done.

A house rewire in Leeds lets say a 3 bed semi in Leeds, Wakefield, Bradford, York & Harrogate in Yorkshire to the 17th Edition Wiring Regulations will take 10 days (monday to friday) for two fast Electricians, at the end of the rewire all the cables should be capped as in this illustration and clipped above ceilings and beneath floors.
I do not believe any electrician that says they can do a house rewire for £2000.00 pounds, show me one, let me visit it and I guarantee it will full of flaws, rushed poor workmanship and not compliant to the regulations. Looking under floor boards and above ceilings to see if cables have actually been clipped is a big corner cutting excercise to reduce time on site so watch out for this!

I have seen first hand a £2000.00 rewire when my company received a call from a client in despair having kicked the electricians off site for shoddy workmanship, MPS Electrical had to put it right but this cost the client more money on top of his £2000.00 which he already paid. My advice is if you need a rewire on your home or company premises, do it right first time and use a registered reputable company who issue certificates. If I had a pound for every time I visit a £2000.00 rewire special I would be a rich man now!

Electrician Leeds
Electrician Wakefield
Electrician Harrogate
Electrician York

If you have been given the bad news that you need a home house rewire in Leeds - Bradford - Wakefield - York & Harrogate then you will be searching the internet for quality electricians in Leeds - Bradford - Wakefield - York & Harrogate that can conduct an affordable quality home electrical rewire.

You have come to the right place so here i will tell you what a quality home electrical rewire is and why we are different from the competition as Electricians In Leeds - Bradford - Wakefield - York & Harrogate that conduct quality electrical home rewires that stand us apart.

First and foremost is knowing that a home electrical rewire in Leeds - Bradford - Wakefield - York & Harrogate is a messy job, why you ask ?

A quality home electrical rewire involves looking after the customers home first and foremost as it will be filled with belongings that can get damaged when dust and dirt is created with the natural course of a home electrical rewire. We protect your belongings from start to finish by shrink wrapping furniture and floor coverings, we also leave power on every night as we know most of the time you have to live in the home during this process. Trust me moving furniture around every day, lifting carpets and floors up then floor boards and restoring them every is time consuming and puts several days on top of a home electrical rewire in Leeds - Bradford - Wakefield - York & Harrogate. This is a fact but also unavoidable for some customers that cannot move out due to having a family. We know this and this is why me and my team work with you to make the process during the rewire as comfortable as possible. This is where the quality of the company comes in because most will kill all the electrics and not take this into consideration as they rip out the old wiring while they replace it with new wiring.

How is dust and dirt created during a electrical home rewire in Leeds - Bradford - Wakefield - York & Harrogate ?

During the course of a home electrical rewire we have to chase out walls o a depth of at least 50mm into the wall to comply with electrical regulations namely the 17th edition electrical wiring regulations BS7671. This is for all cables in a home that are concealed inside the walls. We have to RCD protect the cables and this means the fuse box mounted and installed in the property conforms to the latest safety protection devices such as protection by a RCD RCD-61009.


RCD Fuse boxes come in two types which we offer, install and supply in Leeds - Bradford - Wakefield - York & Harrogate and these come in two forms.

The first type of fuse box is a dual RCD fuse box, these are the budget type of fuse box because they incorporate two master RCD'S that control a bank of miniature circuit breakers, this means when the master RCD which is one of two operates under any fault conditions it isolates a complete bank of circuit breakers.

The second type of fuse box is what we recommend is the RCBO fuse box, the difference with this fuse box is each circuit breaker has its own RCD built into it, therefore any fault within the property if it occurs stays limited to the one RCBO that activates under fault conditions.

Now imagine you have a dual RCD fuse box installed and a fault occurs on any o the sub circuits one of the RCD masters (one of two) occurs, this means a complete bank of circuit breakers will be isolated plunging you into powerless darkness. The fault could be over any of the sub circuits installed leaving you clueless and having to fault find multiple circuits in order for the master RCD to reset, trust it will not until you have fixed the offending circuit involved and this can be costly and time consuming as instead of a electrician fault finding the one circuit in order to restore power to the master RCD which in turn restores power to multiple circuits the master RCD governs you have to work through each one fault finding to find the offending culprit.

Now, with a RCBO board, if a fault develops, the one RCBO will trip off, so for example it says "Ground floor sockets" the electrician knows that something on the ground floor sockets is causing the issue so his/her time is limited to investigating that circuit instead of a complete bank of potential circuits affected. See what i mean in the difference in fuse boxes ?. Good read on.

Now when it comes to a home electrical rewire in Leeds - Bradford - Wakefield - York & Harrogate you pay for the quality in the home electrical rewire such as the electrical components installed which you get installed during the rewire,trust me their is a difference between quotes, someone that quotes the cheapest in parts such as non decorative power sockets, light switches, electrical fixtures and cable and someone, someone who under quotes other quality electricians in Leeds - Bradford - Wakefield - York & Harrogate by covering up the areas you cannot see by not clipping cables to the 17th edition wiring regulations minimum standards will under cut any other electrician on price but give a sub standard electrical rewire all in all.

All cables concealed underneath floors, above ceilings and enclosed in walls should be clipped and this takes time, antibody can catapult a wire in from A to B, put the floor boards back down and cover them up so the customer cannot see them and shave 5 days off the time and quote to conduct a electrical home rewire in Leeds - Bradford - Wakefield - York & Harrogate.

The only saving grace is me telling you this now as i have been in this electrical industry for 24 years to date and i have seen all the tricks electricians use to undercut us and poach jobs from us by giving the customer a cheaper quote so guess what, here is the truth, please read on.

A three bed semi rewire, a to standard quality home electrical rewire in Leeds - Bradford - Wakefield - York & Harrogate will take two of my electrician Monday to Friday the minimum ten days to complete with a days plaster patching and filling up to finishing standards for all the chases and holes we create in walls and ceilings, this is a fact, we do it day in, day out. If someone offers you a home electrical rewire in Leeds - Bradford - Wakefield - York & Harrogate for under this time then you the intelligent customer have to think of the following.

Where are they saving the time ?
Where are they saving on cost ?

The answer is both! we install decorative quality branded power sockets, light fittings, switches and cable, the difference is we give all our installed equipment a ten year warranty because it is that good and do not use the cheapest materials in order to line our pockets.

House Rewire Leeds
House Rewire York
House Rewire Harrogate
House Rewire Wakefield

Get in touch today for a free quotation a electrical home rewire, many thanks for your time.
Does your house need a rewire?
Many houses in the UK still have old wiring. This is not only unsafe and a potential fire hazard but is also less efficient than modern systems. It can also affect the resale value of your house, as old wiring almost certainly is highlighted as a major problem during a survey.

If you have old wiring in your house, for example fabric or rubber covered flex you should seriously consider having a complete rewire. Here at MPS Electrical Contractors Leeds we can completely redesign your electrical system to include sufficient socket outlets located in the right places to accommodate your needs, a state of the art consumer unit to replace your old fuse box which will contain residual current devices and circuit breakers. Rewiring a house is a major undertaking, we will carry out the work as quickly and efficiently as possible.

Take a look at our 10-point checklist to see if you might need a rewire.
Does your fuse box have replaceable fuse wire?

Do your plugs or sockets get hot or have scorch marks?

Do fuses blow regularly?

Do you have to use extension leads and adaptors?

Do you have lights that use the old, twisted type flex?

Do you have rubber covered flex?

Do you have round pin plugs and sockets?

Are your cables missing an earth cable?

Do you use electrical equipment outdoors?

Has your wiring been checked in the last 10 years?
If you have answered yes to any of the above you could require a rewire.
TRS Wiring Tough Rubber Sheath Wiring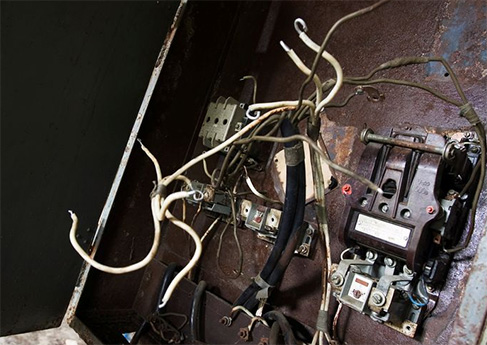 (TRS) was the forerunner to today's modern PVC cables. It was last used in this country in the early 60's and if your property is older than this, and hasn't been re-wired at some point, there may be TRS wiring present in your house. TRS wiring can be extremely dangerous.

The sheaths (inner & outer) of these cables are made of rubber. The outer is impregnated with an oil, preventing it from drying out, but where the inner sheaths are exposed to air, ie. in junction boxes, consumer units, switches and behind sockets, this inner sheath, over time, dries out and cracks, usually falling off leaving exposed live conductors, as you can see this has happened to the black cable here.

For obvious reasons this can be very dangerous, and any live TRS wiring should be replaced as a matter of urgency with the more modern PVC type.

The two types of cable are very distinctive, and you should be able to spot TRS wiring at a glance. Another reason TRS cabling can be dangerous is that in the lighting cables (as in the picture) there is usually no earth wire. There are 3 conductors present in the PVC cable (Brown, Blue and the bare conductor, which is sleeved green and yellow, then used as an earth or cpc) but only 2 (Red & Black) in the older TRS cable. If there are metal light fittings in the property they cannot be earthed if a 2 core cable is used and this is very dangerous.

A good place to check for TRS cabling is in the loft as access is easy. Of course these cables are also the easiest to replace, so if you don't find any up there, there may still be some lurking somewhere else! It is important to remember that just because there is TRS wiring present, doesn't necessarily mean it's live. If you are in any doubt though, it is very important that you get a qualified electrician to check for you.


So a few golden rules:


Check for old accessories, switches, sockets, etc.
Check the consumer unit.
In pre 60's properties check the cabling, if it's TRS GET IT REPLACED ASAP.
IF IN DOUBT CALL US AND ASK US TO CARRY OUT AN ELECTRICAL SAFETY CHECK FOR YOU!
Optional Extras
When carrying out a rewire we can also provide computer data cabling, Phone points, Emergency lights, TV Aerial points, Intruder Alarm, Door Entry Systems and under floor heating.
Fuse Board Upgrades
We can provide a free quotation to replace existing rewireable fuseboards with Consumer Units containing Minature Circuit Breakers (MCBs) & Residual Current Devices (RCDs). These consumer units have built-in 30mA protection for the use of electrical equipment outdoors & easily re-set circuit breakers giving safe & accurate protection of circuits.
Miniature Circuit Breakers
MCBs are mechanical switches that incorporate thermal & magnetic short circuit protection giving accurate & fast disconnection in the case of a fault. Unlike fuse wires they can be reset without the need of tools.

We also upgrade main & supplementary equipotential bonding to BS7671 standards. RCDs are earth fault safety trips that monitor the whole installation or individual circuit for earth leakage currents.
Decision to rewire
The best way to determine the current state of an installation is to have a Periodic Inspection Report. This type of report is often carried out prior to a rewire where there is uncertainty or concern over the condition of the installation.

"All work is carried out to the highest standard with minimum disturbance"

Our electricians have many years experience in rewiring existing properties. We offer free quotations for work ranging from a full rewire to a selection of small alterations & repairs.

We will be happy to discuss your requirements & advise on the work requested. MPS Electrical is registered under the Part P self certification scheme.